Additional Mental Health Resources
Wellbeing Course for Agriculture Producers
The Wellbeing Course for Agriculture Producers, offered through the Online Therapy Unit, aims to provide free education and guidance on simple but effective techniques for managing farm related stress and depression and/or anxiety. The course helps Saskatchewan farmers and ranchers with thoughts, behaviors, and physical symptoms related to depression and anxiety.
Web Resources
Mental Health Apps (Available for download from the App Store)
Avail App: Track health & wellness, access self-help resources, connect with others, and much more! 
Calm App: Improve sleep, meditate, and relax.
HEADSPACE App: Reduce anxiety through mindfulness and meditation.
MindShift App: Free evidence-based mental health relief.
Crisis line
Farm Stress Line: 1-800-667-4442
Saskatchewan Suicide Hotline: 306-525-5333
Crisis Services Canada: 1-833-456-4566
Crisis Text Line: 686868
Child Abuse Helpline: 306-569-2724
Saskatchewan Gambling Helpline: 1-800-306-6789
Adult Sexual Assault Helpline: 1-800-214-7083
Mobile Crisis Services: 306-757-0127
National Webinar Series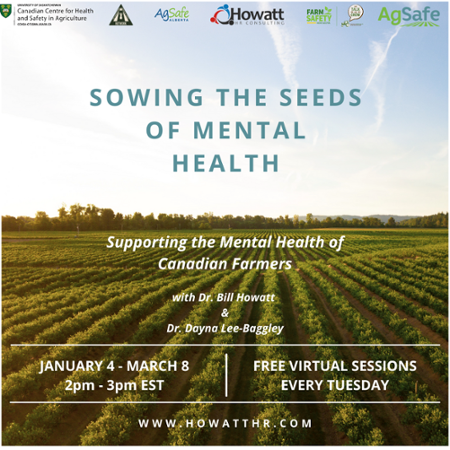 ---
 For more information/questions please contact:
aghealthandsafety@usask.ca
---