8 Domains of Well-Being COVID-19 StyleWell-Being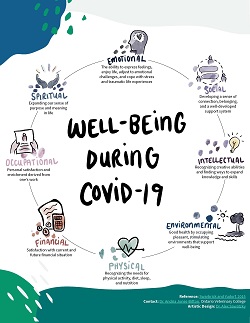 These infographics were designed by Dr. Andria Jones-Bitton Associate Professor, Department of Population Medicine Director of Well-Being Programming, Ontario Veterinary College University of Guelph and her Ontario Veterinary College's Resilience Rotation 4th year DVM students.
"Unquestionably, these are tough days. The COVID-19 pandemic has required us to make significant changes professionally and personally, in a very short period of time, while also attending to our feelings around the disease. For many of us, we may be having trouble doing our usual activities that support our well-being," describes Dr. Andria Jones-Bitton. The 8 Domains of Well-Being COVID-19 Style resource was designed to help encourage ideas for well-being activities during COVID-19 in the areas of: Emotional, Social, Intellectual, Environmental, Physical, Financial, Occupational, and Spiritual Well-Being.
Dr. Jones-Britton highlights that it is really important to remember that we don't need to do to ALL 8 DOMAINS or all suggested activities all at once. Rather, aim to choose those activities that most appeal to YOU and make whatever small changes that are within your control!  It is very important that you are kind and compassionate with yourself during this process.  Whatever you are able to do is great, regardless of the size of the change. Even small changes can be very powerful! Small changes produce feelings of positivity and personal control. Remember, small changes can add up to something really impactful.
Emotional Well-Being the ability to express feelings, enjoy life, adjust to emotional challenges and cope with stress and traumatic life experiences.

Social Well-Being

: Developing a sense of connection, belonging, and a well-developed support system

Intellectual Well-Being

: Recognizing creative abilities and finding ways to expand knowledge and skills.
Environmental Well-Being: Good health by occupying pleasant, stimulating environments that support well-being.
Physical Well-Being: Recognizing the needs for physical activity, diet, sleep and nutrition.
Financial Well-Being (Coming Soon!): Satisfaction with current and future financial situation.
Occupational Well-Being: Personal satisfaction and enrichment derived from one's work.
Spiritual Well-Being: Expanding one's sense of purpose and meaning in life.