Current Projects
CIHR Foundation Grant – Design and evaluation of integrated primary health care practices for dementia in rural and remote settings
Rural areas tend to have a larger share of older adults, but few dementia-specific services. With most specialists practicing in cities, most of the responsibility for dementia diagnosis and management in rural areas falls to local primary health care (PHC) providers. However, there is a knowledge gap in evidence-based best practices to guide rural dementia care. Given the tremendous diversity across rural settings and PHC teams, a "one size fits all" approach to designing rural best practices is not effective. There is a need for adaptable strategies that can be tailored to individual PHC teams in different contexts.
Currently in its early stages, the Rural Dementia Action Research (RaDAR) Dementia Toolkit will be an important outcome of the Foundation grant program.  In partnership with rural PHC providers we will develop an inventory of evidence-based best practices for delivering comprehensive, integrated PHC for dementia that is adaptable, scalable, and sustainable across diverse rural settings and PHC teams. 
This research program involves three linked research streams:  Stream 1: Interdisciplinary team-based care to support ongoing care management and education/support for patients and caregivers.  Stream 2: Remote specialist-to-primary care education and support through technology  Stream 3: Decision support tools for PHC providers that are embedded in the electronic medical record (EMR).  
We will also create and validate dementia case definitions for EMR and administrative data so that we can examine the effectiveness of the toolkit. The ultimate goal of the research is to improve the quality of rural PHC, and quality of life, among people with dementia and their caregivers living in rural areas.
---
RaDAR and Health Quality Council of Saskatchewan partnership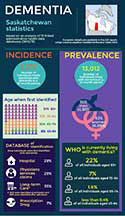 RaDAR and HQC have formed a partnership to analyse administrative health data with the objective of investigating the epidemiology of dementia in Saskatchewan. These research findings will provide key evidence to form policy recommendations, support health resource planning, and identify research priorities. The RaDAR-HQC Steering Committee guides the RaDAR-HQC research collaboration, and is comprised of researchers, health region and Alzheimer Society of Saskatchewan leadership, and health care professionals. 
Phase 1 - Completed - Reports to download
Multi-method Investigation of Dementia and Related Services in Saskatchewan: Final Report and Recommendations (2015)
Phase 2 – In progress 
RaDAR and HQC are currently collaborating to identify patterns of health service use among individuals identified with dementia, using linked administrative health data
---
Canadian Consortium on Neurodegeneration in Aging (CCNA) - Team 20 (Rural)
RaDAR is also a part of Team 20 of the Canadian Consortium on Neurodegeneration in Aging. This video about our team was produced as part of a CCNA initiative to share information about our research. The CCNA is a 5-year initiative (2014-2019) led by cognitive neurologist Dr. Howard Chertkow of the Lady Davis Institute at the Jewish General Hospital (McGill University). Launched by the federal government and the Canadian Institutes of Health Research(CIHR) in September, 2014, the CCNA addresses the growing prevalence of neurodegenerative diseases affecting cognition such as Alzheimer Disease and other dementias. The CCNA brings together 340 Canadian researchers and experts organized into the 3 themes of primary prevention (preventing disease development), secondary prevention (delaying clinical manifestations), and quality of life. The CCNA has received $31.5 million from CIHR and 13 public and private sector partners, plus $24 million from partners in Ontario and Quebec, to carry out the 5-year research program. Team 20 is funded by SHRF in partnership with CIHR from 2014 to 2019.
As lead of the RaDAR Team, Dr. Debra Morgan co-leads Team 20 with Dr. Kristen Jacklin (Northern Ontario School of Medicine, Laurentian University) and Dr. Carrie Bourassa (First Nations University, SK). Team 20 focuses on rural and Indigenous issues in dementia care, with the rural focus led by Dr. Morgan and the Indigenous focus co-led by Drs. Jacklin and Bourassa. The rural and Indigenous research streams are distinct but address three common research areas in the CCNA quality of life theme: community-based primary health care (PHC), appropriate tools, and capacity building.
As part of CCNA Team 20, RaDAR team members will conduct several inter-related projects over the next five years (2014-2019):
1. Our core project involves a longitudinal mix-method multiple case study to identify gaps in dementia care pathways, assist primary health care (PHC) teams to adapt PHC dementia care practices to rural settings, and evaluate the adapted interventions and facilitators/barriers of successful adaptation;
2. A pilot project led by Dr. Julie Kosteniuk involves identifying and and adapting evidence-based clinical support tools to rural PHC settings, and evaluating the efficacy of the adapted tools for improving the quality of care provided to individuals with dementia;
3. A pilot project led by Dr. Megan O'Connell will develop innovative ways that specialists (from the Rural and Remote Memory Clinic) can support and help build dementia care capacity in rural PHC providers, and provide diagnostic support to PHC providers.
Completed - Reports to download
Baseline Study of Dementia Care Landscape in Sun Country Health Region (2016).
Our co-team members on the CCNA Team 20: Issues for Dementia Care in Indigenous Populations have also produced a video which shares information about their work. 
---
AGE-WELL Project (Aging Gracefully across Environments using Technology to Support Wellness, Engagement, and Long Life)
As part of the national AGE-WELL NCE, Megan O'Connell is the Project Lead for Rural/Remote Indigenous Technology needs Exploration (RRITE). Project co-lead and co-applicants are: Debra Morgan, Carrie Bourassa, Kristin Jacklin & Wayne Warry. 
Understanding user needs is fundamental to development of technology that individuals will try and continue to use. The user needs of two specific Canadian populations, older adults who reside in rural or remote areas and Indigenous older adults, will be explored in an attempt to increase accessibility of the technologies developed in AGE-WELL. We will explore issues related to access to sufficient connectivity infrastructure that are experienced by rural/remote and Indigenous older adults. We will also explore characteristics of rural/remote older adults that impact their needs for technology, such as their exposure to technology, attitudes toward technology, and cognitive abilities. In addition, we will explore what rural/remote and Indigenous older adults find to be personally relevant goals for technology to support them while they age. Finally, we will explore how residing in rural/remote locations has unique implications for training to use new technology and how technologies developed in AGE-WELL can be adapted to increase cultural relevance for Indigenous older adults.
---
A Telehealth-Delivered Support Group
Since 2011 Megan O'Connell and her students have been collaborating with staff from the Alzheimer Society of SK to deliver a telehealth videoconferenced support group for caregivers of individuals diagnosed with atypical dementias or dementia due to frontotemporal lobardegeneration.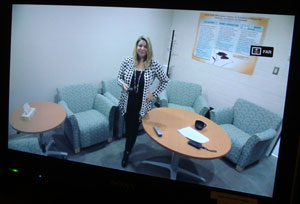 Currently, we hold two monthly support groups with attendees from across the province. Entry into the support groups is via the Alzheimer Society of Saskatchewan First Link Program. This collaborative work is based on participatory research previously published in the journal Dementia: The International Journal of Social Research and Practice. The collaboration with the Alzheimer Society allows us to disseminate this novel intervention method more widely, and is also a wonderful training opportunity for clinical psychology graduate students. Megan is working with one of her students, Rachel Burton, and with Joanne Michael, Director of Programs and Operations at the Alzheimer Society of Saskatchewan and a co-facilitator of one of the support groups, to evaluate the collaboration between researcher and community-based organization.
eHealth Saskatchewan (the provincial organization that provides telehealth services across the province) produced a video about telehealth service which features Dr. Megan O'Connell and a member of the telehealth-delivered support group. Watch the video to learn more about how technology helps this novel support group come together. 
In spring of 2012 three members of the support group traveled to Saskatoon and recorded their personal stories to share online. They are available on our resource page.
---
RaDAR Team investigator, Dorothy A. Forbes, RN, PhD is Professor, Faculty of Nursing, University of Alberta
Prior to becoming an academic, Dorothy was a public health nurse and home care nurse in rural and urban settings in Ontario, Saskatchewan, and Alberta. These community nursing experiences drive her program of research which focuses on supporting persons with dementia and their caregivers in rural Canada. The aim of her research is to improve the quality of life for persons with dementia, their family caregivers, and formal care providers through integrated knowledge translation strategies that enhance quality and safe dementia care in the home. Dorothy is currently examining the role of a knowledge broker in home care settings in northern Alberta. She continues to conduct Cochrane Reviews on interventions such as exercise and light therapy that manage the symptoms of dementia. In addition to working with Debra on her research, Dorothy is a co-applicant on several projects: (i) Development, implementation and evaluation of a provincial kidney conservative care clinical pathway (Davison, S., PA, & Fassbender, K. Co-PA; (ii) Innovative Community Approaches to Promote Optimal Aging for Older Adults with Multiple Chronic Conditions and Their Caregivers(Jennie Ploeg & Maureen Markle-Reid, PAs); and (iii) Understanding Emergency Department Care Transitions for Older Adults with Dementia Living in Rural Communities (Kathleen Hunter & Belinda Parke, PAs). Dorothy held a CIHR New Investigator award from 2003-2008 and was President of the Canadian Association for Nursing Research from 2003-2007. She is currently an Adjunct Professor, College of Graduate Studies and Research, University of Saskatchewan and Adjunct Professor, Faculty of Health Sciences, University of Western Ontario.
Completed Projects
Dementia Learning Needs Assessment for Sun Country Health Region
The Sun Country Health Region Dementia Working Group was formed as part of the health region's 2013/14 Dementia Hoshin (priority) to address some of the challenges facing individuals with dementia and their families. A key initiative of the Working Group was an assessment of the educational needs of health care providers regarding dementia care, specifically home care providers. Performed by the RaDAR team, the assessment examined home care providers' perspectives on their regular work activities and perceived competence related to dementia care, as well as available community support services. This study was funded by an Applied Chair in Health Services and Policy Research Award to Dr. Debra Morgan from the Saskatchewan Health Research Foundation and the Canadian Institutes of Health Research.
Dementia Learn Needs Assessment for SCHR Survey Report (6.5 MB)
---
Caring for a Rural Family Member with Dementia – Debra Morgan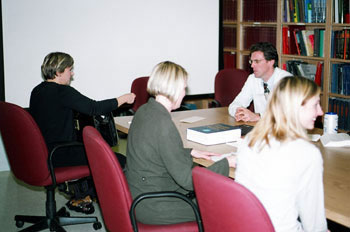 Sheena Walls-Ingram was the Research Manager for this study which was conducted to improve our understanding of the experiences of family caregivers and the supports and services that would help them in their role, both pre and post diagnosis. Family members of individuals referred to the Rural and Remote Memory Clinic were interviewed at the full-day clinic. Follow-up interviews were then conducted at six months and twelve months. This research was published in the journal Social Science and Medicine. Funding for this study was provided by a Canadian Centre for Health and Safety in Agriculture (CCHSA) - Canadian Institutes for Health Research (CIHR) Centre for Research Development Pilot Project grant.
---
Dementia Diagnosis and Management – Julie Kosteniuk
This project explored the assessment and management of people with dementia by family physicians and nurse practitioners in rural and remote Saskatchewan. We investigated the dementia assessment process, as well as decisions concerning specialist referral, perceived roles of family physicians and nurse practitioners in the assessment and management process, their support needs, and their views regarding current gaps in the health care system to support people with dementia and their caregivers. This research was published in the journal Primary Health Care Research & Development.
---
Development and Evaluation of a Telehealth-Delivered Exercise Intervention – Vanina Dal Bello-Haas(PI) and Megan O'Connell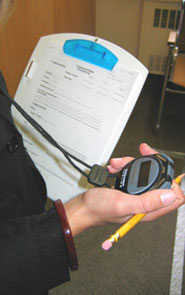 The purpose of this project, funded by the Ralston Brothers Medical Research Fund, was to examine the feasibility and acceptability of a telehealth-delivered exercise program for Rural and Remote Memory Clinic (RRMC) patients and their caregivers. In Phase 1, RRMC patients and caregivers were interviewed about current physical exercise and preferences regarding an exercise intervention design. This information was used to create the Phase 2 survey questionnaire that was mailed to RRMC patients and their caregivers.  Preliminary analyses suggest that 61% of respondents are interested in participating in an exercise program conducted via telehealth. A research assistant investigated community resources for physical activity and exercise in each survey respondent's community. Phase 3 involved a telehealth-delivered exercise intervention offered two times a week in two different health regions. This research was published in the journal Rural and Remote Health and was published in Journal of Aging and Physical Activity.
---
The Experiences of Sons as Caregivers - Norma Stewart
This study focused on the experiences of sons as caregivers over time for parents with dementia, who live in rural and remote areas of Saskatchewan. Earlier team research, published in the Journal of Applied Gerontology led to interest in the specific caregiving experiences of sons. The study involved interviewing sons who have self-identified as primary caregivers in the initial diagnostic Rural and Remote Memory Clinic visit over the past 6 years, with the aim of improving our understanding of their role in the context of the network of carers and services available to their parent with dementia. The funding to support this study was provided by a CCHSA - CIHR Centre for Research Development Pilot Project grant.
---
The Northern Cultural Assessment of Memory (N-CAM): A Protocol Designed to Detect Cognitive Change in Indigenous Seniors - Margaret Crossley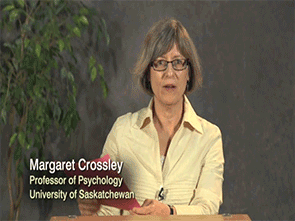 Cognitive screens for Indigenous seniors must address the cultural bias of existing assessment protocols, and be developed in consultation with front-line health care workers and health managers who work with Indigenous seniors, including partners from Northern and remote settings. Clinical researchers and graduate students at the University of Saskatchewan's Rural and Remote Memory Clinic developed the Northern Cultural Assessment of Memory (N-CAM) in partnership with Keewatin Yatthé Regional Health Authority (KYRHA) Home Care Service staff and managers, in consultation with Indigenous seniors and health care staff from the Saskatoon Community Clinic, and with support from the Indigenous Peoples Health Research Centre (IPHRC) and Northern Medical Services. Intended as a dementia screening protocol for Indigenous seniors, the N-CAM does not assume or require formal education or fluency in English. The protocol incorporates colourful and familiar materials, includes a story-telling component, and can be administered in the preferred language of the senior with the assistance of a bilingual family member or other caregiver.
Download a one-page overview of the N-CAM.
View an archived webinar about the N-CAM from October 29th, 2015 on vimeo.

If you would like to access the N-CAM or if you have any questions or concerns about the administration, scoring, or interpretation of the N-CAM, please contact Margaret Crossley.
---
Evolution of Assisted Living, Personal Care, and Long-Term Care Facilities in Aboriginal Communities - Lesley McBain
The aim of this project was to identify and describe assisted living and long term care facilities located in First Nation and Métis communities in Saskatchewan. While there is a need for long term care beds in Aboriginal communities, establishing such facilities requires stakeholders to negotiate a range of complex jurisdictional and funding challenges.  One finding of the research revealed a lack of care homes in northern Saskatchewan - an area identified by the Conference Board of Canada as having some of the lowest incomes and poorest housing stock in the country. As many care homes are privately owned and operated residences where clients are responsible for the cost of their care, the next step is to determine if there is a connection between housing stock, incomes, and access to care home facilities in the north.
---
The team's physical therapist, Vanina Dal Bello-Haas, PhD, PT, was funded by the Saskatchewan Health Research Foundation to study factors associated with falls and near-falls in community-dwelling older adults with early-stage dementia. A paper related to this research was published in the Journal of Applied Gerontology.
---
Physical Assault of Staff in Long Term Care
Research by members of the RaDAR team in rural long term care facilities identified a high rate of physical assault for Special Care Aides (SCAs) [now referred to as Continuing Care Assistants (CCAs) in Saskatchewan] compared to other caregivers. CCAs provide the majority of hands-on care in nursing homes and are sometimes referred to as Nursing Aides or Personal Support Workers. The research also identified an association between more frequent assault and higher job stress.
In 2007 a research team further investigated Continuing Care Assistants' experiences of physically aggressive behaviour, and their perceptions of the causes of the behaviour.
This research was published in the journal Qualitative Health Research, and published in the Journal of the American Medical Directors Association. As well, a Study Report was created to share study findings back with the participating CCAs and long term care facilities. The team felt that a direct, clear, report format would be the best way to ensure that CCAs had access to the study findings. The research team also traveled the province to meet with CCAs in each of the 11 participating facilities to review the report findings.
In 2010, Allison Cammer presented the keynote address Experience of Physical Aggression in Long Term Care at the Continuing Care Assistant Conference at the then Saskatchewan Institute of Applied Science and Technology (SIAST) [now Saskatchewan Polytechnic] campus in Saskatoon. Following the keynote presentation participants had the opportunity to participate in research focus groups aimed at learning more about incident reporting among Saskatchewan-based care aides. The discussions examined what reporting processes are in use, which are most useful, how they are best used within the workplace, and how they can be improved.
---
The team neuroradiologist, Sheri Harder, MD, FRCPC, received two years of external funding to evaluate magnetic resonance spectroscopy (MRS) in improving diagnostic accuracy in early AD and in predicting prognosis in patients with mild cognitive impairment.  Consenting clinic patients underwent serial MRS at baseline (their first in-person follow-up appointment) and at one year.
---
As a CIHR New Investigator funded by the NET grant, Dorothy A. Forbes, RN, PhD, Associate Professor, Faculty of Nursing, University of Alberta conducted research on home and community-based services for people with dementia. Her work explored the use and satisfaction with home and community-based services for people with dementia from the perspective of the family caregivers. The findings suggest a need for an integrated continuing care model that includes the person living with dementia and their family caregivers as partners in care, addresses all of the determinants of health, and embraces sensitivity, diversity, flexibility, and supportive services to enhance the availability and acceptability of Canadian home and community-based services. She has further explored the impact of place (rural vs. urban) on Canadians with dementia and their use of health care services using data from the Canadian Community Health Survey. The results suggest that Canadians with dementia primarily required support services and that they were more likely than persons without dementia to report that their health care needs were unmet. It is recommended that publicly funded national home care programs be expanded to ensure that the supportive services needed by this population are available. Her research indicates that among Canadian females between 50 and 64 years old those with dementia were more likely than those without dementia to live in rural areas. As well, using data from the 2003 Canadian Community Health Survey, her work explored the role of gender in the use and availability of home and community-based services among Canadian men and women with dementia. In this study, women reported better health and received more supportive care yet had more unmet home care needs than men – suggesting consideration must be given to gender differences when policies and programs are developed. Selected publications resulting from this research program are listed on the Team Publications page.
---