Background
RaDAR's focus on primary health care emerged from stakeholder feedback and experiences in the Rural and Remote Memory Clinic, which highlighted the challenges of diagnosis and management from the perspectives of patients, families, and health care providers.
The rural primary health care (PHC) memory clinics evolved through a collaboration with the former Sun Country Health Region on a 5-year research intervention program (2014-2019) as part of Phase 1 of the Canadian Consortium on Neurodegeneration in Aging.
Our goal was to implement an effective and sustainable model of dementia care in rural communities that integrated interprofessional care, remote specialist-to-provider support, and decision support tools. Partnering with the Kipling PHC team in 2015, we implemented the initial model using a 5-step approach (Morgan et al., 2019).
Interprofessional care - multiple PHC team members and the Alzheimer Society First Link Coordinator are involved in the 1-day clinics, providing timely diagnosis, management, and support
Remote specialist-to-provider support - RRMC specialists Dr. Andrew Kirk and Dr. Megan O'Connell offer ongoing mentoring and education sessions to teams
Decision support tools – flow sheets were adapted from the Primary Care Assessment and Treatment Algorithm (PC-DATATM) and added to the teams' EMR system. PC-DATATM is based on Canadian consensus guidelines and was developed by geriatric psychiatrist Dr. Dallas Seitz. The Kipling team also created a handbook that includes scripts for discussing sensitive topics.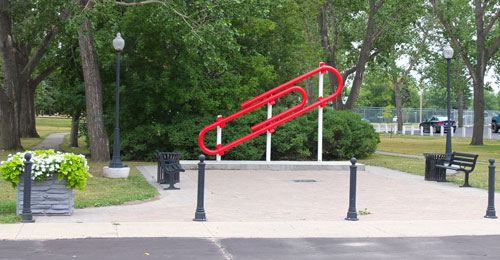 Rural Primary Health Care (PHC) Memory Clinics
Three PHC teams in southeast Saskatchewan offer 1-day memory clinics - Kipling, Weyburn, and Rural West. Clinics are held every second month or as needed. Spreading the memory clinics to other rural communities is a priority for the RaDAR team.
Ongoing research funding is provided by a CIHR Foundation grant to Dr. Morgan and SHRF through Phase 2 of the Canadian Consortium on Neurodegeneration in Aging.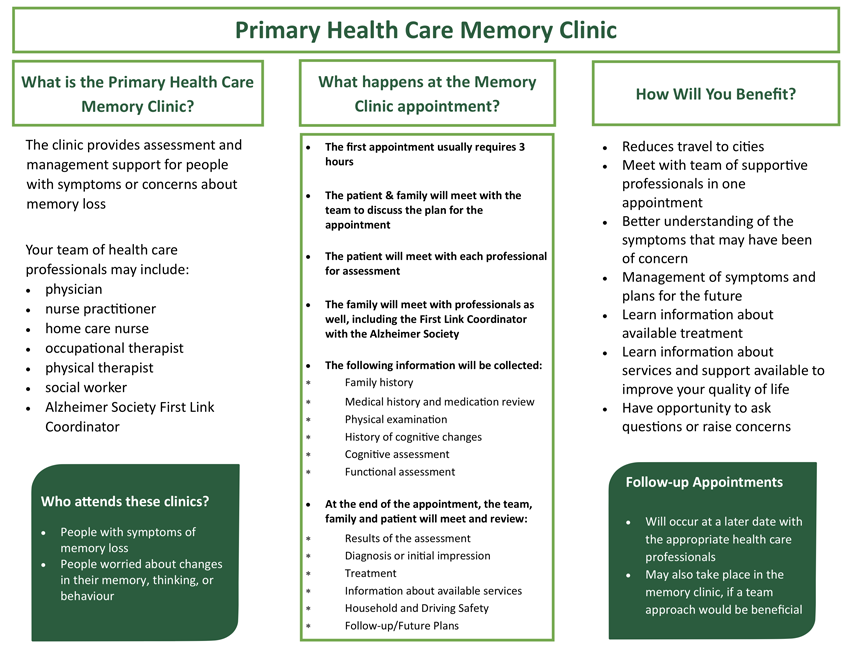 Download a brochure about the memory clinics.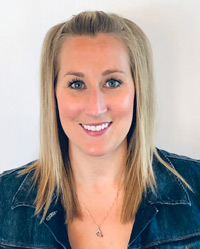 Chelsie Cameron supports the use of best practices across the PHC memory clinics and assists with spreading the memory clinic model to primary health care teams in rural Saskatchewan. Chelsie is also a PHC Facilitator with the Saskatchewan Health Authority, in the former Sun Country Health Region
Related Research Projects
Understanding how rural primary health care teams collaborate to deliver dementia care (led by Dr. Amanda Froehlich Chow)
Objectives
The primary purpose of this study is to understand how rural primary health care (PHC) teams are currently collaborating to deliver care to older adults living with dementia and other chronic conditions.
Research Questions: 
What specific strategies do rural PHC teams apply when working collaboratively?
What are the factors influencing team-based care in rural settings?
What are the benefits of engaging in team-based care?
Has the RaDAR project changed the way participating PHC teams collaborate to provide care to those living with dementia?
Memory assessment and diagnosis within a team-based rural primary health care model: patient and family perspectives (led by Dr. Melanie Bayly)
Objectives
The goal of this research is to investigate the experiences of patients and families who are assessed for dementia by the Kipling, Weyburn, and Rural West primary health care teams. This will allow us to better understand patient and family perceptions of a collaborative team-based model of dementia care, their needs and whether they are being met, and how the assessment processes could be improved. 
Contact
For more information about the clinics:
Dr. Debra Morgan 306-966-7905