International Symposia
8th International Symposium
Saskatoon, SK
8th International Symposium: Safety & Health in Agricultural, Rural & Remote Populations (SHARP)
(more information coming soon)
7th International Symposium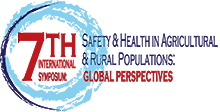 The Safety & Health in Agricultural & Rural Populations: Global Perspectives (SHARP)
October 19-22, 2014
Saskatoon, Saskatchewan
Sixth International Symposium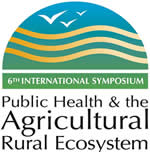 Public Health and the Agricultural Rural Ecosystem: What we breathe, What we eat and drink, How we work, How we live.
October 19-23, 2008
Saskatoon, Saskatchewan
Fifth International Symposium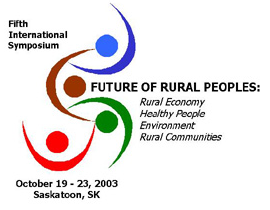 Future of Rural Peoples: Rural Economy, Healthy People, Environment, Rural Communities
October 19-23, 2003
Symposium Brochure
Book of Abstracts
Fourth International Symposium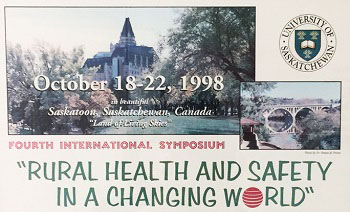 With the increasing recognition of the broader aspects of rural health and safety, the Centre organized the Fourth International Symposium "Rural Health and Safety in a Changing World", again supported by NIOSH and numerous Canadian agencies. This Symposium led to the development of the Canadian Rural Health Consortium with Dr. Martha MacLeod of University of Northern British Columbia and Dr. Dosman leading a national drive for co-operation on rural health issues. The Canadian Rural Health Research Society, with head office at the Centre, became a national entity in 2001.
Third International Symposium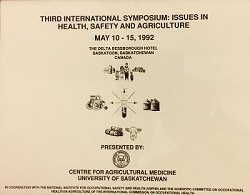 The 1992 "3rd International Symposium:  Issues in Health, Safety, and Agriculture" resulted in the edited book, Agricultural Health and Safety:  Workplace, Environement, Sustainability (Eds:  McDuffie HH, Dosman JA, Semchuk KM, Olenchock SA, Senthilselvan A; CRC Press, Boca Raton, Florida, 1995).  This event led to the development of the Canadian Coalition for Agricultural Safety and Rural Health, now known as the Canadian Agricultural Safety Association, administering a federally-funded one million dollar/year granting program, the Canadian Agricultural Safety Program.
Second International Symposium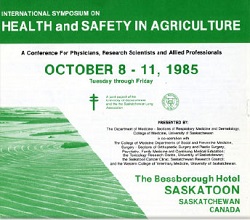 The Second "International Symposium on Health and Safety in Agriculture" organized in 1985 contributed directly to American scientists developing the NIOSH Agricultural Health and Safety Program.  In addition, NIOSH scientists were instrumental in editing Principles of Health and Safety in Agriculture (Eds:  Dosman JA, Cockcroft DW; CRC Press, Boca Raton, Florida, 1989). Study areas addressed at the meeting led to the development of the Centre for Agricultural Medicine at the University of Saskatchewan.
First International Symposium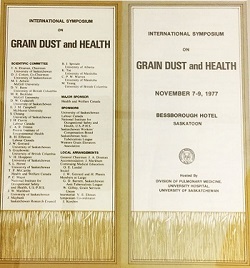 The 1977 "International Symposium on Grain Dust and Health" led to the edited book, Occupational Pulmonary Disease:  Focus on Grain Dust and Health (Eds:  Dosman JA, Cotton DJ; Academic Press, New York, 1980), the development of the Grain Dust Medical Surveillance Program in Canada, the recommendation of maximum dust exposure levels by the American Conference of Governmental Industrial Hygienists and influenced Occupational Health and Safety Administration standards for grain transport and storage in the United States.
Canadian Rural Health Research Society Conferences
Others
National Summit on the Control of Agricultural Injuries and Death in Canada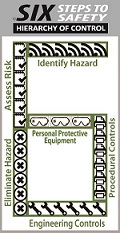 Transforming today's science into tomorrow's prevention
June 7th, 2016
Saskatoon, SK