The specialist Rural and Remote Memory Clinic was originally implemented and evaluated through a Canadian Institutes of Health Research NET (New Emerging Team) Grant funded research program. Today the specialist Rural and Remote Memory Clinic receives funding from the Saskatchewan Ministry of Health to provide clinical services to Saskatchewan residents.
Objectives and Goals
The objectives of the specialist memory clinic study are to increase the availability and accessibility of dementia care in rural and remote areas, to determine the acceptability of the one-stop clinic and of telehealth versus regular follow-up, and to develop culturally appropriate assessment protocols for assessment of dementia in aboriginal older adults. Our focus is on diagnosis and management of atypical and complex cases of suspected dementia, where an interdisciplinary team assessment is most needed.
The clinic streamlines assessment and diagnosis in order to reduce repeated travel over long distances and to shorten the time to diagnosis by coordinating an interdisciplinary assessment on one day.
Current Clinic Staff
Director
Dr. Debra Morgan
Neurologist
Dr. Andrew Kirk
Neuropsychologist
Dr. Megan O'Connell
Staff in Psychology
August Kortzman
Clinic Nurse
Darla Walz
Psychometrist
Duane Minish
Physiotherapist
Julie Jensen
Physiotherapist
Jennifer Fairbairn
What to Expect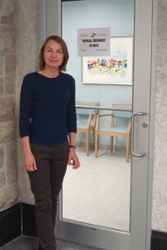 What to expect from a day at the clinic:

The clinic consists of a stream-lined, integrated one-day weekly clinic that includes an assessment by a neurologist, neuropsychology team, and physical therapist. Coordination of the patient, family, and team member activities is carried out by the clinic nurse. The clinic follows a family-centred approach in which all interested family members are invited to participate. At least one caregiver must accompany the patient to assist with history taking and to provide essential information about the patient's daily functioning. We also assess the psychological health and caregiver burden experienced by the family members or others supporting the patient. Two new patients are evaluated at each weekly clinic, with start times staggered at 8:30 AM and 9:30 AM and ending by 5:00 pm. At the end of the day, the referring physician is invited to attend the end of day care conference via teleconference. Follow-up assessments vary based on need.
Benefits to the patient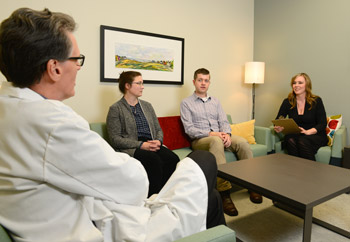 Following the interdisciplinary rounds at the end of the day, patients and family members meet with the neurologist and neuropsychology team. They are provided with information about the probable diagnosis, feedback based on the clinical assessment and investigations, and recommendations for management and care. Where appropriate, referrals are made to local support groups or services. Team clinicians prepare individual written reports that are collated and sent to the referring physician.
Meet the RRMC Team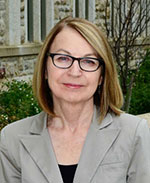 Dr. Debra Morgan - Administrative Director of the specialist Rural and Remote Memory Clinic (RRMC).
Dr. Morgan is a Professor and Chair, Rural Health Delivery, in the Department of Medicine and Canadian Centre for Rural and Agricultural Health (CCRAH), University of Saskatchewan. After obtaining her Registered Nursing diploma in 1974 she worked in various clinical areas before completing her BSN, MN, and PhD (Nursing) at the University of Saskatchewan. The following three years were spent as a Post-Doctoral Fellow at the CCRAH. In 1999 Dr. Morgan joined the faculty of the CCRAH.
Dr. Morgan leads the Rural Dementia Action Research (RaDAR) research program, which focuses on rural and remote dementia care, early assessment and diagnosis, and primary health care for dementia. RaDAR is a community-based participatory research program that relies on stakeholders to guide the research. Dr. Morgan is administrative director of the specialist RaDAR Rural and Remote Memory Clinic launched in 2004 as a research demonstration project at the University of Saskatchewan and since funded by the Ministry of Health.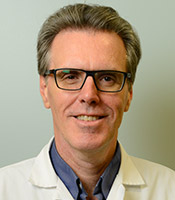 Dr. Andrew Kirk – RRMC Neurologist. Dr. Andrew Kirk is a Professor of Neurology at the University of Saskatchewan where he's worked since 1991
. He is Past-President of the Canadian Neurological Society and the Canadian Neurological Sciences Federation. Dr. Kirk has been the neurologist in the specialist Rural and Remote Memory Clinic since its inception in 2004. He conducts interviews, and neurological examinations of RRMC patients, and then works with findings from other members of the team to provide a diagnosis and plans for next steps and follow up at the end of the day meeting with patient and family. He also orders further imaging or laboratory investigations as needed.
Dr. Kirk is research lead for the Saskatoon site of the Comprehensive Assessment of Neurodegeneration and Dementia (COMPASS-ND) Study.
COMPASS-ND
is a signature, observational study of the Canadian Consortium in Neurodegeneration and Aging (CCNA). The study collects clinical, neuropsychological, and MRI imaging data as well as biological samples from participants with various types of dementia or cognitive complaints.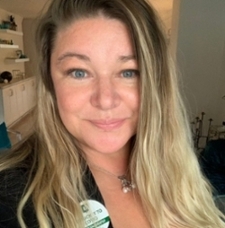 Dr. Megan O'Connell – RRMC Clinical Director. Dr. O'Connell is a Clinical Neuropsychologist, Professor in Clinical Psychology, CCRAH and RaDAR Investigator, University of Saskatchewan. Megan O'Connell leads the evaluation of the Virtual Rural and Remote Memory Clinic intervention (vRRMC). The vRRMC was a pandemic necessity, but our evaluation helped us understand the need for a similar model post-pandemic. We have also seen a noticeable increase in the need for our memory clinic, and have plans for an expansion.
In 2023, two of Megan O'Connell's students, August Kortzman and Karl Grewal, are conducting care partner interventions for their respective dissertations. August is introducing a short-term focused course of Interpersonal Psychotherapy to increase perceived care partner social support, and Karl is using off-the-shelf technology to augment perceived care partner efficacy in the home.
Megan O'Connell is collaborating with numerous partners across Canada. She is the Saskatchewan primary investigator on the implementation of the Canadian edition of the Computer Interactive Reminiscence and Conversation Aid (CIRCA-CA), led nationally by
Arlene Astell at University Health Network in Toronto
. She is also bringing a multi-domain post-diagnostic support intervention to Saskatchewan – the Dementia Lifestyle Interventions for Growing Healthy Together, led by
Laura Middleton
at the University of Waterloo.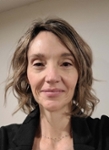 Darla Walz – RRMC Clinic Nurse. Darla Walz joined the RRMC in December. She adds her strong clinical experience to the team, as well as her compassion for patients and their families. Her nursing experience includes working with geriatric populations, in Home Care, and with Public Health in both Saskatchewan and Alberta. She has also worked as a health educator for chronic disease management, and is a registered Social Worker as well as a registered nurse. Her excellent collaboration skills for working within an interprofessional team are well suited to the RRMC team.

Duane Minish – RRMC Psychometrist.
 Duane has a BA in Psychology and has been the RRMC psychometrist for more than seven years. He works closely with the clinic neuropsychology team and trainees to administer the standardized assessments to clinic patients in-person and during virtual appointments. He then works to complete the scoring of the assessments in advance of the end of day team meeting. Duane also assists with booking virtual clinic appointment web conferencing sessions for the team.
Julie Jensen – RRMC Physiotherapist.
Julie has a Bachelor of Science in Physiotherapy and joined the RRMC in 2019 working as one of two physiotherapists in the clinic. Julie has over 35 years experience as a PT and has a special interest in chronic and lymphatic edema. She is also a certified lymphatic therapist.

Jennifer Fairbairn – RRMC Physiotherapist. Jennifer is the second of two RRMC Physical Therapists. She provides PT assessment, consultation, and recommendations to the people attending the RRMC. Jennifer graduated from the School of Physical Therapy at the University of Saskatchewan in 1995 and works as a PT for the Saskatchewan Health Authority through Home Care in Saskatoon. 
RRMCi - Interventions
The Rural and Remote Memory Clinic-interventions (RRMCi) is a project led by Dr. Megan O'Connell of the RaDAR team that was started in 2019. The RRMCi delivers a suite of interventions tailored to persons with cognitive impairment or dementia and their caregivers, without fee, via telehealth to Saskatchewan Residents. The current intervention is a treatment for chronic insomnia for older adults with cognitive concerns or dementia and caregivers of persons with mild cognitive impairment or dementia. Learn more or sign up to participate in the sleep intervention.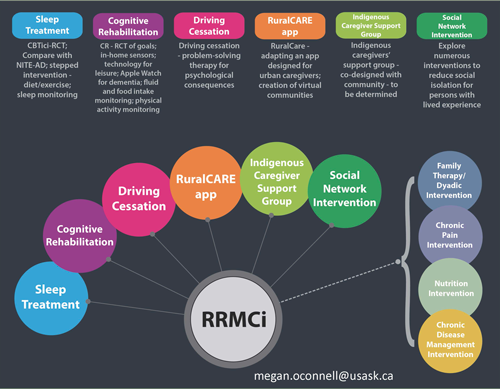 Contribution to research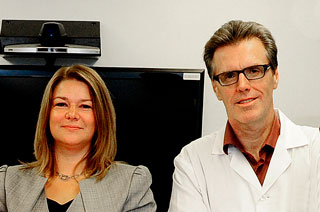 Clinical and evaluation data are centrally managed to enhance data quality and accessibility, and to facilitate interdisciplinary analyses that capitalize on the depth and breadth of data collected. There are several Rural Dementia Action Research team research projects that have emerged as a result of the memory clinic operation.