The specialist Rural and Remote Memory Clinic was originally implemented and evaluated through a Canadian Institutes of Health Research NET (New Emerging Team) Grant funded research program. Today the specialist Rural and Remote Memory Clinic receives funding from the Saskatchewan Ministry of Health to provide clinical services to Saskatchewan residents.
Objectives and Goals
The objectives of the specialist memory clinic study are to increase the availability and accessibility of dementia care in rural and remote areas, to determine the acceptability of the one-stop clinic and of telehealth versus regular follow-up, and to develop culturally appropriate assessment protocols for assessment of dementia in aboriginal older adults. Our focus is on diagnosis and management of atypical and complex cases of suspected dementia, where an interdisciplinary team assessment is most needed.
The clinic streamlines assessment and diagnosis in order to reduce repeated travel over long distances and to shorten the time to diagnosis by coordinating an interdisciplinary assessment on one day.
Current Clinic Staff
Director
Dr. Debra Morgan
Neurologist
Dr. Andrew Kirk
Neuropsychologist
Dr. Megan O'Connell
Staff in Psychology
Dr. Ivan Panyavin
Clinic Nurse
Darla Walz
Psychometrist
Duane Minish
Physiotherapist
Julie Jensen
Physiotherapist
Jennifer Fairbairn
What to Expect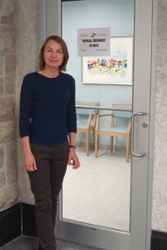 What to expect from a day at the clinic:

The clinic consists of a stream-lined, integrated one-day weekly clinic that includes an assessment by a neurologist, neuropsychology team, and physical therapist. Coordination of the patient, family, and team member activities is carried out by the clinic nurse. The clinic follows a family-centred approach in which all interested family members are invited to participate. At least one caregiver must accompany the patient to assist with history taking and to provide essential information about the patient's daily functioning. We also assess the psychological health and caregiver burden experienced by the family members or others supporting the patient. Two new patients are evaluated at each weekly clinic, with start times staggered at 8:30 AM and 9:30 AM and ending by 5:00 pm. At the end of the day, the referring physician is invited to attend the end of day care conference via teleconference. Follow-up assessments vary based on need.
Benefits to the patient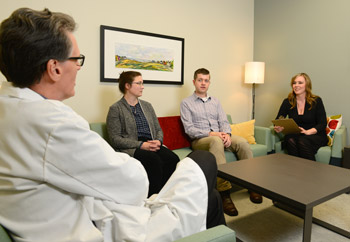 Following the interdisciplinary rounds at the end of the day, patients and family members meet with the neurologist and neuropsychology team. They are provided with information about the probable diagnosis, feedback based on the clinical assessment and investigations, and recommendations for management and care. Where appropriate, referrals are made to local support groups or services. Team clinicians prepare individual written reports that are collated and sent to the referring physician.
RRMCi - Interventions
The Rural and Remote Memory Clinic-interventions (RRMCi) is a project led by Dr. Megan O'Connell of the RaDAR team that was started in 2019. The RRMCi delivers a suite of interventions tailored to persons with cognitive impairment or dementia and their caregivers, without fee, via telehealth to Saskatchewan Residents. The current intervention is a treatment for chronic insomnia for older adults with cognitive concerns or dementia and caregivers of persons with mild cognitive impairment or dementia. Learn more or sign up to participate in the sleep intervention.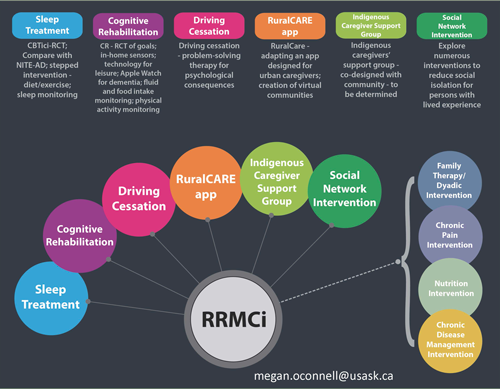 Contribution to research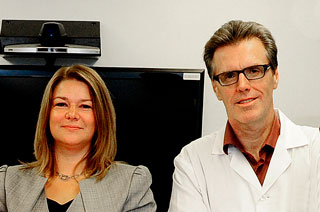 Clinical and evaluation data are centrally managed to enhance data quality and accessibility, and to facilitate interdisciplinary analyses that capitalize on the depth and breadth of data collected. There are several Rural Dementia Action Research team research projects that have emerged as a result of the memory clinic operation.